October 15, 2021 | Kaylin Richardson
Going skiing? It can be hard knowing what to wear.
How do you handle the sudden drop in temperature from the bottom of the chairlift to the top of the mountain? How do you keep out the snow, wind and precipitation? For beginner skiers, the choice can be overwhelming. For professionals, the choices evolve over time.
One such professional is former Olympic alpine skier turned backcountry skier, Kaylin Richardson. At seven years old she began dressing herself completely on her own before skiing. That same sense of ownership and empowerment came again at age 31 when she successfully packed everything she needed for a ski trip to Alaska that included winter camping and glacial travel. In this guide Kaylin shares her top tips on how to dress for skiing.
TIP 1: "BE BOLD, START A *LITTLE* COLD"
More layers and/or a bulkier jacket does not necessarily mean you'll be warmer. On frigid winter days, too often I see people pull on three synthetic base layers, followed by a big goose down jacket with no water resistance (few ski day occurrences are sadder than a soggy down jacket - heavy, wet, AND cold). In one run they will be sweating from pow-chasing by the time they jump on the lift and freezing by the time they get off.
I always say, "Be bold, start a *little* cold." When I first get outside my body assesses the initial shock and then turns on the furnace. It took me years to trust in this. I learned that when I begin a little chilly after a few minutes touring or one run skiing I settle into a great state of comfort.
TIP 2: CHECK THE FORECAST
The first thing I do to prep for a day skiing is look at the forecast. Will it be super cold? Super warm? Windy? Will there be precipitation? Will there be any large weather changes throughout the day? Then I discern what type of activity I will be attempting. Will I be exerting myself or letting gravity do most of the work? Chairlift-riding or potential bushwhacking? Powder hounding or slush manoeuvring? Once I have that information I make a plan to stay warm, dry, and mobile.
TIP 3: INVEST IN QUALITY AND DESIGN
Buying a few really effective, well-made items is completely worth the investment. Naturally style also plays a part (who doesn't want to look good on the slopes?), but it is always secondary to performance. Even if it is the cutest/coolest looking item you've ever seen, if it doesn't fit well or you cannot move in it comfortably, it's not for you. Save your money and get what fits. Trends and fashion change, something that fits perfectly will always have a place in your lineup. You might be wearing the trendiest kit on the mountain, but if you're sweating, shivering, wincing, and/or pulling at fabric all day, you will never look cool. Ever. Trust me.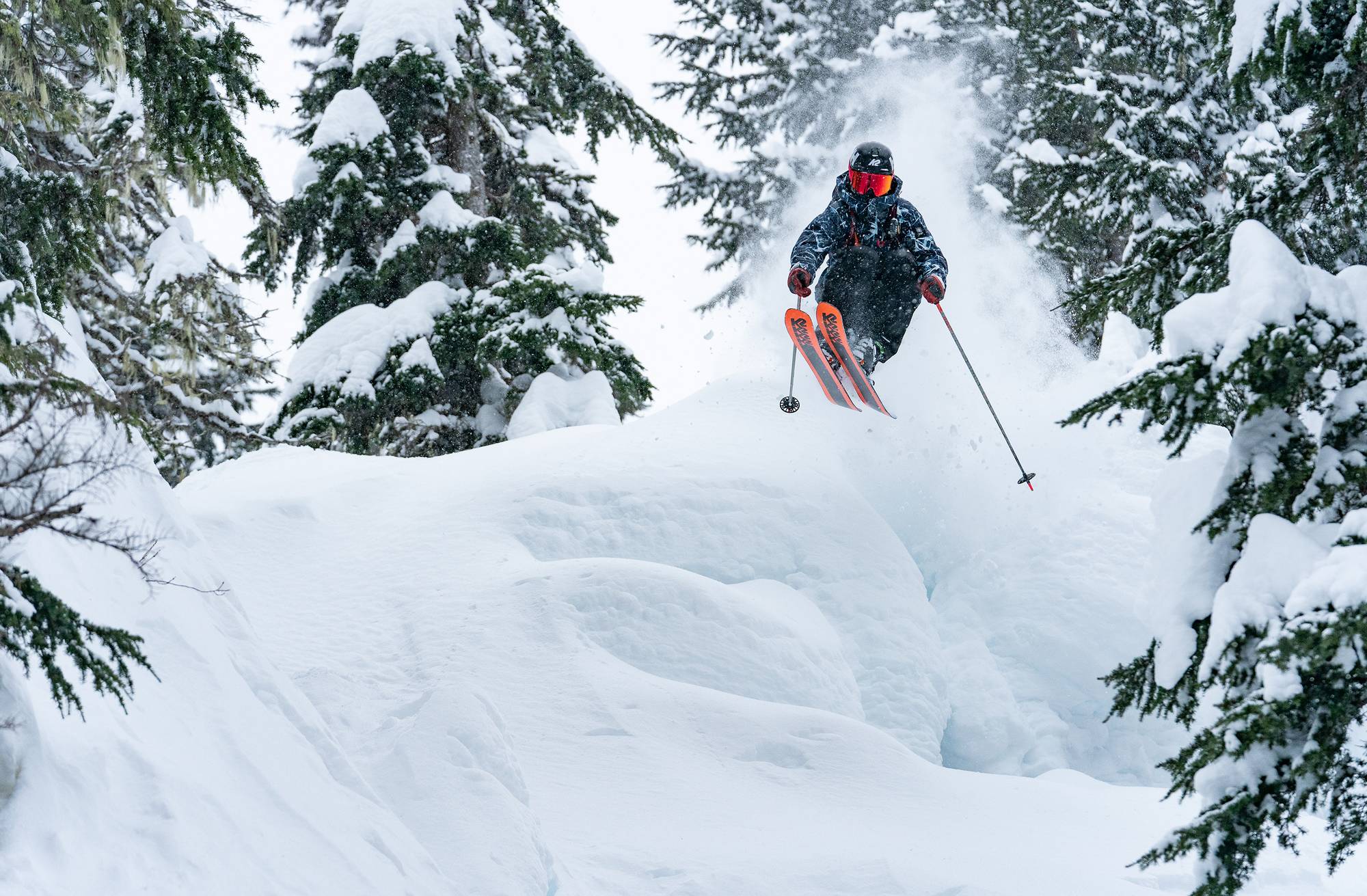 TIP 4: KEEP IT SIMPLE
As I have evolved as a skier, getting ready for a day of skiing has become second nature, but I still remember the early days. The gear, the prep—no doubt it is a production and a learning curve. I have been skiing professionally for almost 22 years, and I continue to learn more tips and tricks.
The whole process gets easier, faster. It's part of the magic of skiing—the time put in doesn't just matter when it comes to technique, there is also a mountain IQ that is developed. The first sign of that IQ growing is when you begin figuring out what to wear. That is such a big step forward.
There is no age too young or too old and no place too big or too small to begin your own version of adventure. Figure out what keeps you comfortable on the slopes. If you are dry, warm, and protected you can make turns anywhere, in any conditions, and you will be having fun. Simple as that.
TIP 5: HAVE 3 LAYERS
Even on the coldest of cold days the most I wear is four layers—baselayer, vest, midlayer/insulator, and shell/jacket. I give my body a little room to breathe and move, which ultimately keeps me far warmer and more comfortable.
I used to think that to be warmer I had to add another layer. However, sometimes less is more, if your less provides more protection. I now realize that when I was a younger athlete, skiing in the bitterly cold Midwest, my layers were so constrictive that there was nowhere excess body heat could dissipate if needed.
My earliest memories as a little ski racer in Minnesota were of being cold. Really cold. One race at a ski hill literally on the banks of Lake Superior the wind chill was so severe (close to -65) we were not allowed to strip down to our speed suits. It would have likely been unsafe. That day I wore two sets of long underwear, two sets of sweatpants (one mine, one my older brother's), two sweaters, a down vest and then my jacket and pants. I could barely move. Think Ralphie's little brother in 'A Christmas Story' and you get the idea. Needless to say, it was not my best performance, but the harshness of the weather and the absurdity of my outfit to withstand such weather never left me.
 

 

Now I understand that breathability keeps me warmer. Three great layers that compliment one another are far warmer than six layers that conflict.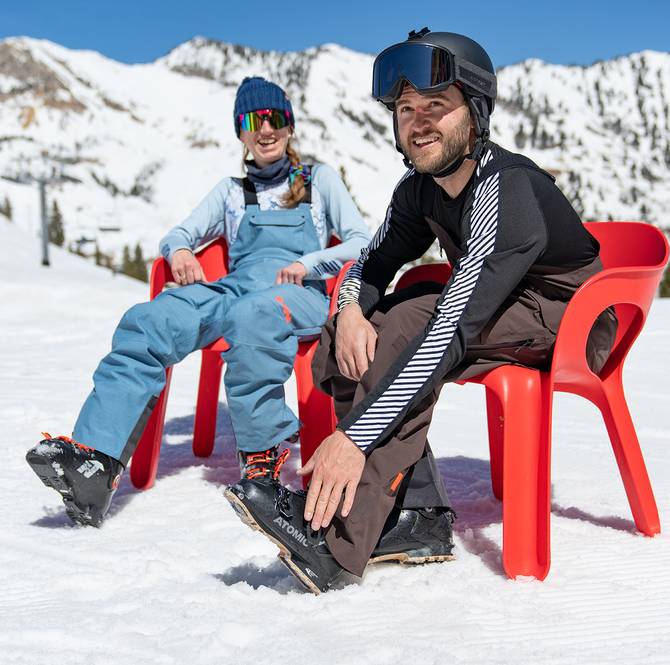 1) BASE LAYER
People think outerwear is the most important item, but I beg to differ. I've been skiing with a subpar base layer and the itchiness and perpetual moisture is impossible to ignore. My LIFA® Merino base layer is essential. It is my second skin, my better skin. It keeps me dry and comfortable; it makes any day in the mountains a good one—whether it is full-on winter storm skiing, or spring slush schussing. The greatest endorsement I can give is that after skiing I strip off my outerwear and stay snuggled in my baselayer all evening. Cozy is as cozy does.
WHAT TO LOOK FOR IN A BASE LAYER
Comfort—I want to stay as dry as possible, whether it is chilly or sweltering. Being out in the elements means that one minute I might be sweating from exertion, and the next the wind picks up and it begins to snow. A baselayer that expels the moisture from my skin, as opposed to evaporating off my skin (which requires body heat to do, and that is impossible if you're freezing), allows me to regulate my body temperature far more efficiently. Once I am wet, there is so much more energy required to heat up—energy I would rather use to climb faster or ski harder. I have discovered (the hard way) that there are few realities more uncomfortable in the mountains than wet, cold, sticky skin, be it from my precipitation or perspiration.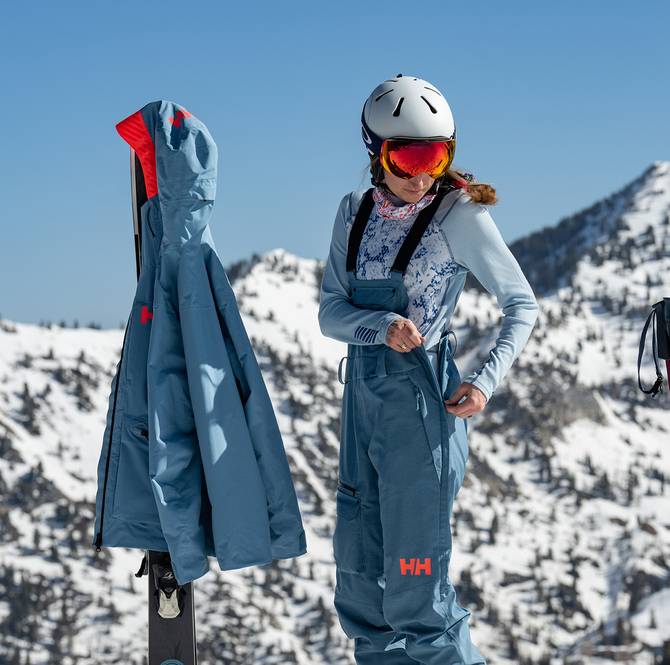 2) MIDLAYER
A fantastic shell is obviously a must because it keeps out the elements, and you have to wear long underwear, so the middle layer can sometimes seem like an afterthought. Staying warm is not a luxury though, it is critical to having a great day on the mountain. Sure, you can throw on a fleece or an extra jacket you have lying around, but a jacket designed for layering is a beautiful thing. It has blown my mind how warm the lightest midlayer can be. Without weighing me down, I have a layer that keeps me warm and energized throughout the day. A great midlayer is an awesome item when it comes to versatility as well — some days it may be all you need while skiing, and I've also used my midlayer in big cities as a light jacket.
WHAT TO LOOK FOR IN A MIDLAYER
Warmth—I want to maintain an optimal temperature with minimum effort. On cold days retaining as much body heat as possible is crucial, however, I have come to find that the bulkiest insulator is not the best insulator. There are midlayers that are low volume, yet so well engineered that they utilize my own layer of body heat, instead of just throwing more insulation into the jacket or pullover. This provides far more breathability when my temperature and/or activity fluctuate. I can always shed a layer, but because the design is so adaptable, often all that is required is opening some vents. The versatility is built in, without weighing me down.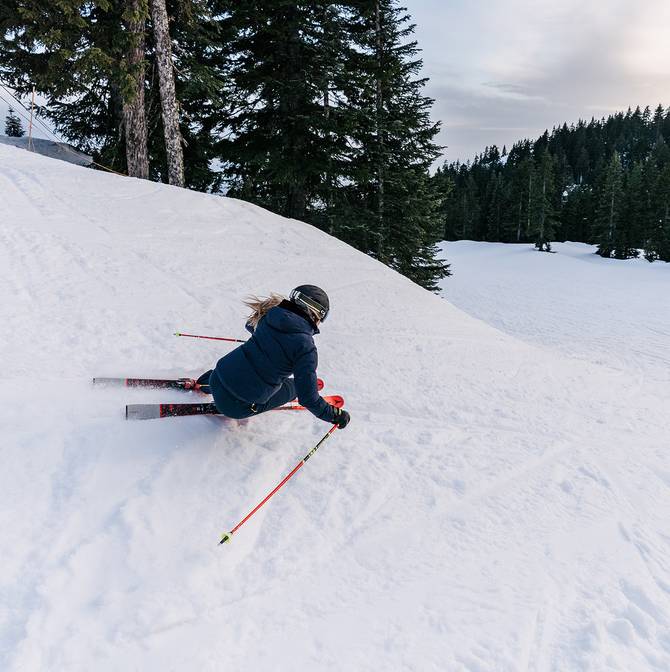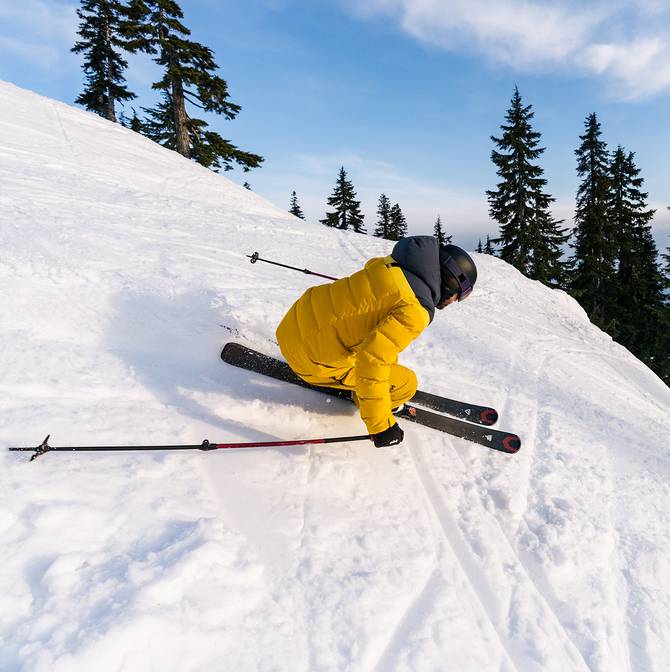 3) SKI JACKET
My outerwear is my first line of defense against wind, snow, rain, and cold. I am loving my Lifa Infinity Pro Shell Jacket. Without any added chemicals it provides unmatched waterproofness and breathability which makes it not only my most high performing shell, but also my most environmentally conscious one.
WHAT TO LOOK FOR IN A SKI JACKET
Protection—I need to be able to withstand the elements, especially as they change. Breathability is what sets apart a good jacket from a great jacket. Weather is volatile, and it is such an asset to have a jacket that is water and windproof to keep me functioning, but also breathes so that I don't just lock in the heat, which could cause me to sweat.
TIP 6: PACK THESE ESSENTIALS
A Neck Cover: An impressive amount of body heat escapes from the neck, so wearing some sort of neck cover, be it gaiter, neckie, or scarf, makes a noticeable difference the instant I put it on.
Sunscreen: Wear it. Even when it's cold. Sunny, cold days can wreak havoc on your face and lips.
Gloves and mittens (and an extra pair): Most people assume it is customary to have cold hands while skiing. That is just not the case. Invest in a good glove or mitten, and bring an extra pair if you can. Then pack hand warmers if your circulation is not good OR if you want a quick way to be the most beloved person on the mountain. Candy is nice to share with friends on the chairlift, but the gift of warm hands? That is hero status.
HELLY PROFESSIONAL KAYLIN RICHARDSON