April 01, 2022 | Nate Brown
Packing list for the classic day hike.
"Being comfortable and safe is a great foundation for soaking up all the wonderful sights that mother nature has to offer."
Read on for outdoor explorer, Nate Brown's Top 8 essential items to pack when embarking on a day hike, whether it's along the coast or up in the mountains. It isn't a "ranked list", as he believes all 8 items are essential.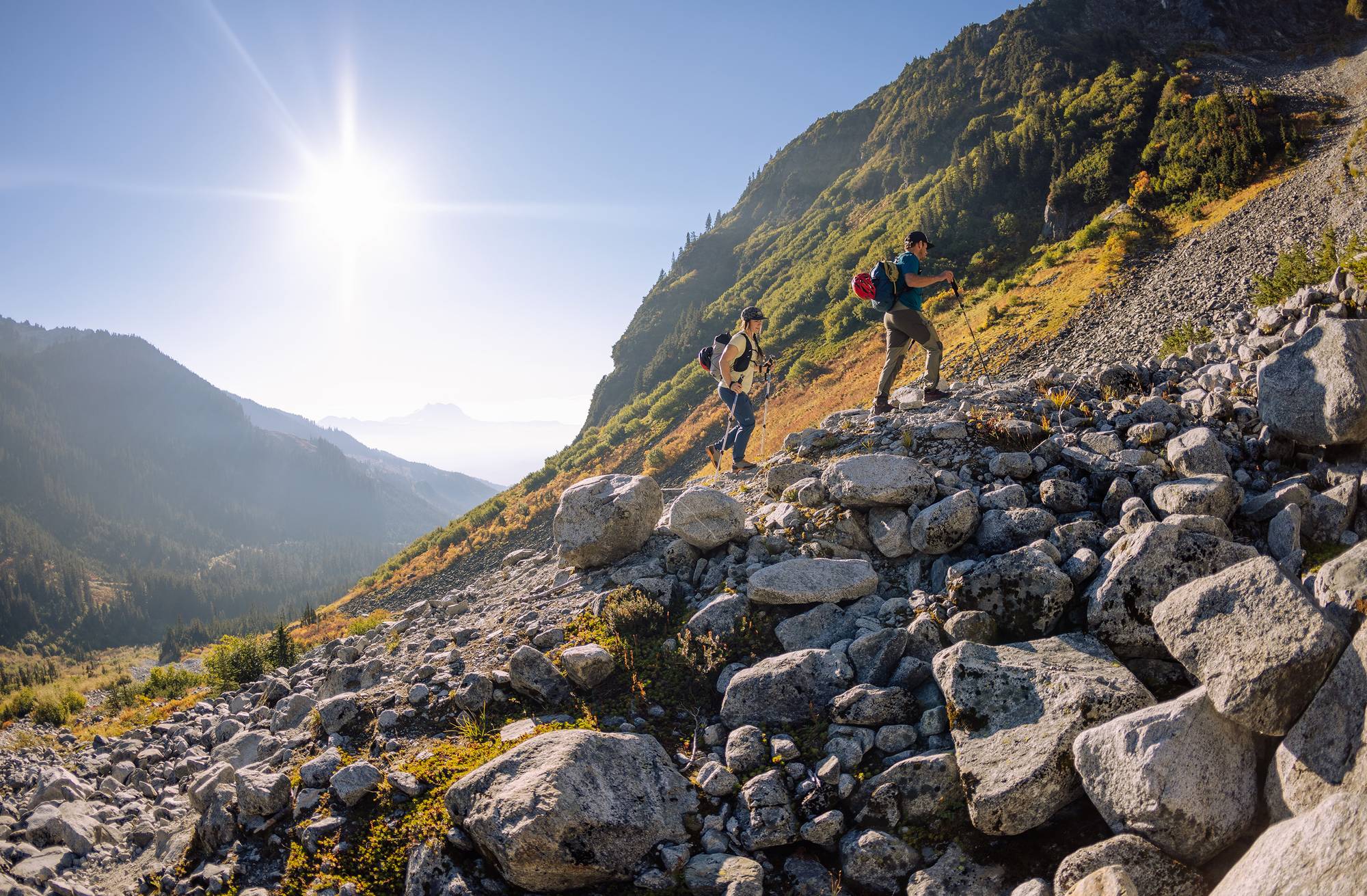 8 THINGS TO PACK FOR A CLASSIC DAY HIKE
1. BACKPACK
This may seem a bit assumed, but a good day starts with having a good pack. A perfect volume for day hiking is something in the 30-40 litre range. This size is small enough to be lightweight while still being able to store everything needed for a day spent outdoors.

Key features that I look for in a bag are:
Easy access to water (side water bottle pocket or internal water bladder sleeve)
Hiking pole attachments.
A hip belt to transfer weight from your shoulders and back and a rain cover.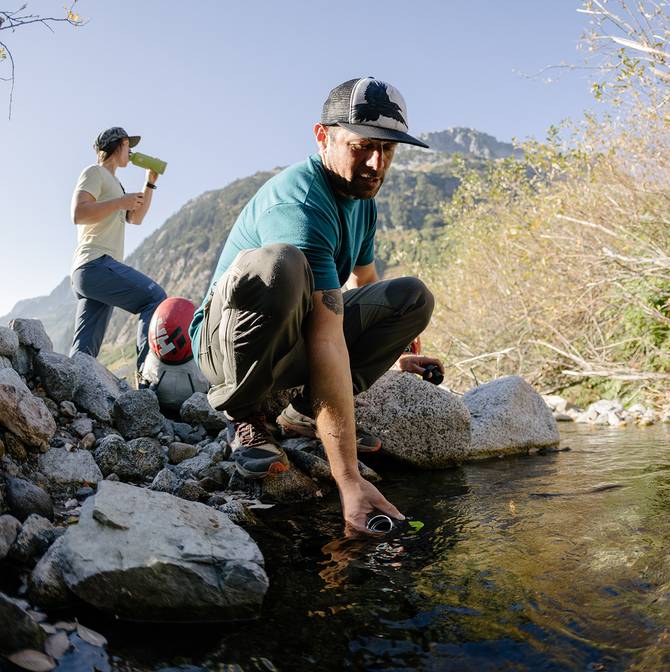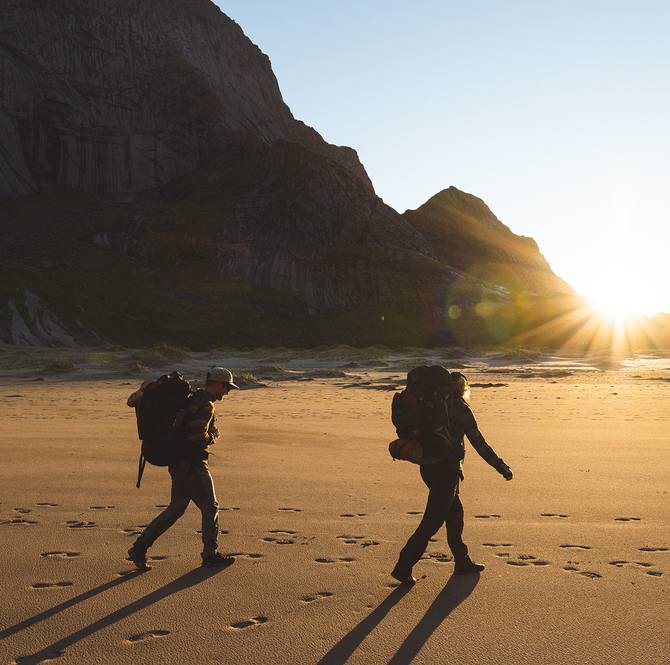 2. FOOD & WATER
The amount of water I carry depends on the trail, but it's typically anywhere from 1-3 litres. I also carry a water filter, so if I run out (or maybe if I want to sip some amazingly ice-cold glacial melt!) I have the ability to make more. The food I carry on the trail can vary quite a bit; I take anything from the standard energy bars, to a sandwich, to a whole buffet picnic, depending on the setting. [I've been known to pack an entire pizza wrapped in foil, so this is an area I don't skimp on!]

But whatever I bring, I always carry a bit more than I anticipate needing, for the following reasons:
In case I'm out longer than I expected If I become more hungry than I thought I would be (this happens a lot).
Or if I run into someone else who needs more food.
Remember… the temperature at the top of the ridge or the mountain is always significantly cooler than at the bottom, so plan ahead.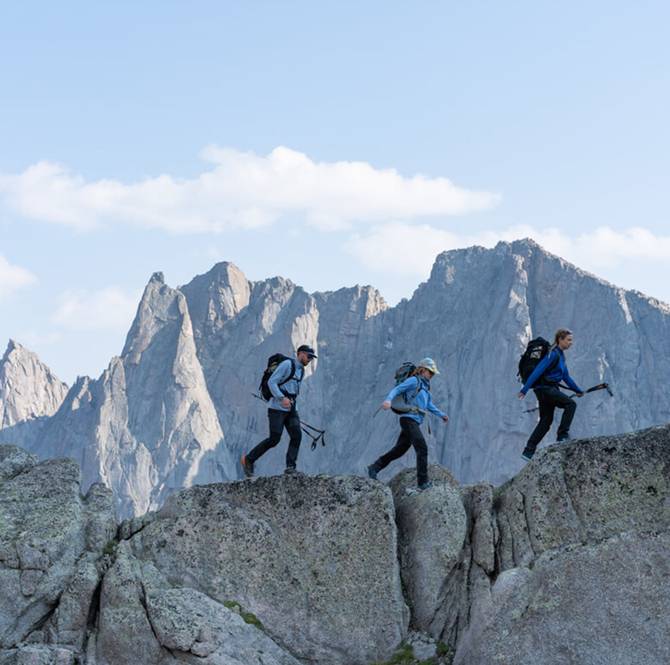 3. SUITABLE APPAREL
Nothing kills a good day hike like bad apparel choices.

My normal apparel choices for Spring and early Summer need to be highly adaptable due to the wide range of conditions I might experience; super cold mornings, hot sunny afternoons, precipitation, quick storms that pass over, snow patches, and other unpredictable weather can shape my wardrobe choices.

I prefer to wear pants for their warmth and protection from bushes, shrubs, bugs, and the sun. Other features I look for are "stretch & give," for those times when you have to leap across a stream, and a hook at the bottom of the leg to act as a simple gaiter if I encounter any snow. My closet has several hiking pant options, depending on my needs that day and weather or environment.

For my shirt, I prefer a lightweight moisture-wicking long sleeve; something like the Lifa Active Solen Long Sleeve, which checks those boxes while also adding UPF 50+ sun protection!

My footwear tends to vary; I could be wearing anything from a traditional boot to something more like a trail runner. Typically, for day hikes, I choose something lightweight and comfortable. There are several great options out there, like the Cascade Boot or the Okapi All-Terrain sneakers.

Add in a hat and sunglasses, and I'm ready to hike!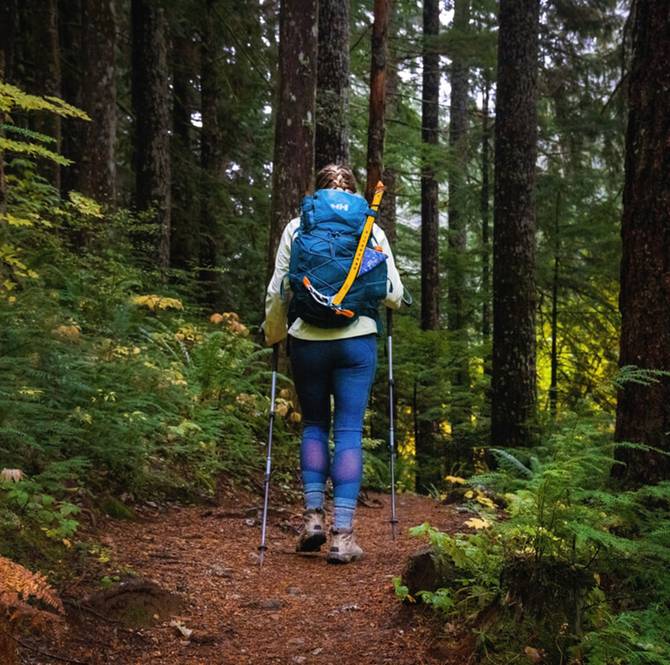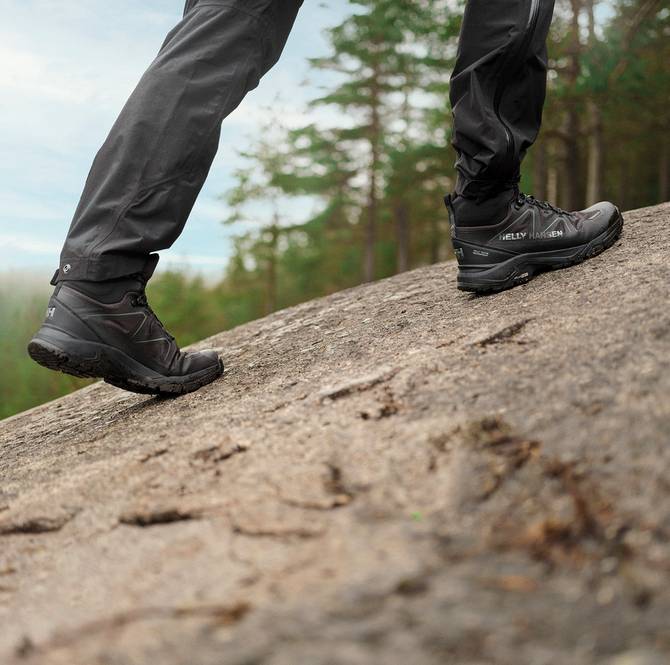 4. EMERGENCY GEAR
A while back, I bought a pre-packaged first aid kit. Since then, I have customized it to include the things I am most likely to need while hiking.
In addition to all the usual stuff for cuts, bumps, and bruises, I have added in a bunch of other things, including:
Bug sting relief ointment.
Allergy medication.
Sodium/electrolyte tabs for cramping.
Leukotape for blisters.
Make sure you check the expiration dates on the things you use because some first aid items do expire! I also carry an emergency bivy sack (*bivy: an emergency heat blanket that looks like a sleeping bag) in case I have an unplanned overnight stay.
Lastly, I try not to forget the gear "repair kit" that includes:
Asmall knife
Multi-tool
A lighter
Cord
Patch kits
Duct tape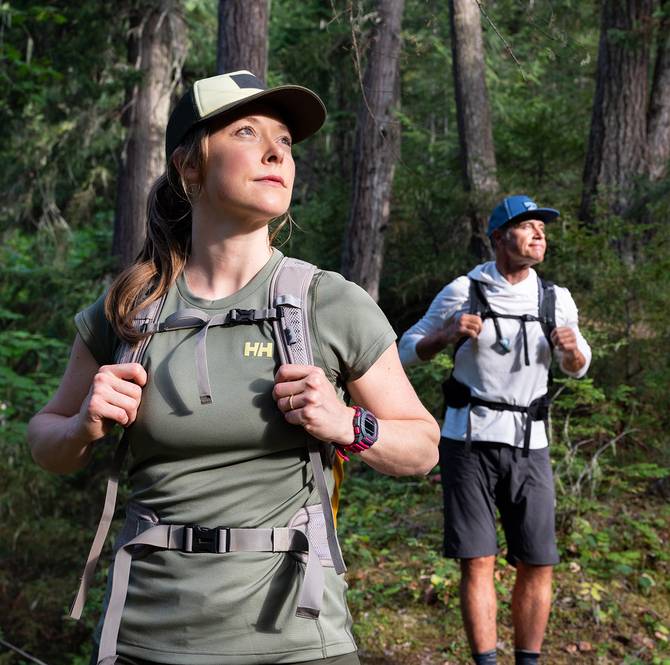 5. EXTRA LAYERS
Regardless of what the weather forecast says, I always carry additional clothing in my backpack. This can vary from season to season, but in the Spring and Summer months, this consists of:
A lightweight rain shell jacket (I love the Verglas Infinity Shell, especially)
Lightweight rain shell pants (check out the Verglas Infinity Shell Pants)
A midweight insulation layer (I use Lifaloft because it is super warm without the
Bulk of a big puffy jacket)
A pair of gloves
Neck gaiter
A beanie
A set of microspikes (if lingering snow may be present on my route)
6. SATELLITE MESSENGER
I carry an emergency SOS beacon and satellite messenger with me on all hikes, called the Garmin InReach Mini. This little device sends out a digital breadcrumb every 30 minutes that marks where I've been. My loved ones back home can check my location in real-time.
I can also send and receive text messages, and if something bad happens, I can even trigger an SOS that goes out to local first responders. I pay a small monthly service charge (like any other phone service), but the peace of mind it gives me and my loved ones is really important to me.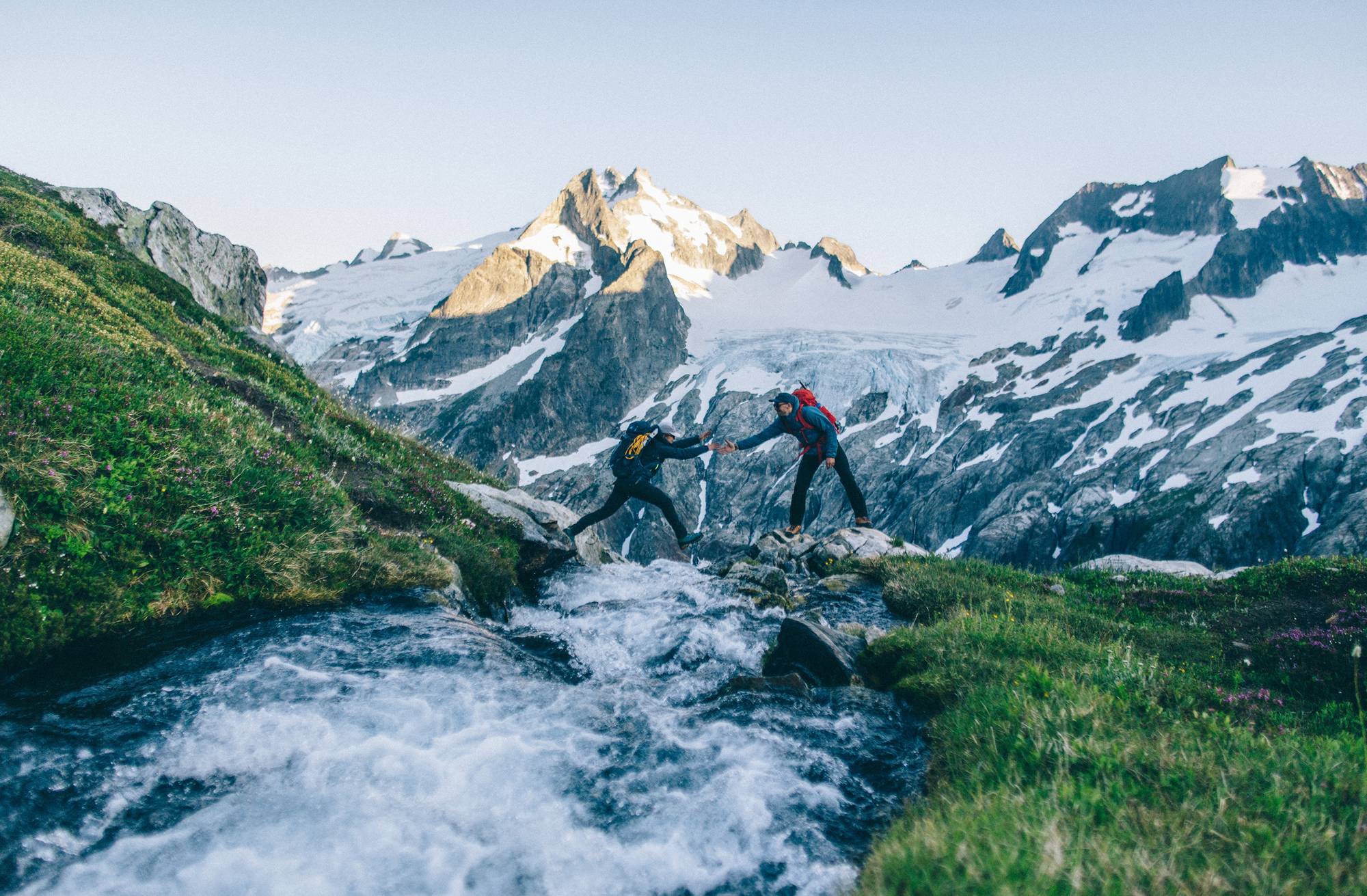 7. CAMERA (OPTIONAL)
I happen to be into photography, so I carry a good amount of camera gear on my hikes. The cost of carrying a much heavier pack is worth it for me, because I might be able to get some great images from my time on the hike. For those who want to upgrade from using their phone to take hiking photos, but don't want to add too much extra weight, there are some excellent options out there.
My lightweight camera setup is the Sony A6400 with an 18–135mm zoom lens. This camera is a crop sensor instead of a full-frame, so it's small and lightweight, and the lens can handle anything from wide-angle landscape shots to zoomed-in telephoto. There are other great options out there, but my recommendation is to stick with a crop sensor and a lens that can handle a wide range of focal lengths, like the 18–135mm.
I also carry my camera on my shoulder by attaching a Peak Design Capture Clip to the shoulder strap of my backpack. I love having easy access to my camera without needing to stop and dig it out of my pack; easy access means I'm able to take more photos, and I never miss a shot before it's gone.
8. THE EXTRAS
Other miscellaneous gear that sometimes comes with me on a day hike includes some consumable items like sunscreen, bug spray, and lip balm. In scenarios where a restroom isn't going to be accessible, I bring a "#2" kit that has toilet paper, a trowel, and a small hand sanitizer. For potentially low-light situations, I will bring a headlamp, in case I'm out later than I expected.
I may bring a very handy small foam buttpad to use for sitting on, if the ground is wet or if I'm in the snow. I also often bring hiking poles because they help transfer some of the weight on steep uphills to my upper body, and they help reduce impact on the downhill as well.
And now, after COVID, RSV, and Flu have changed the etiquette around group behaviour, it's not a bad idea to bring along your mask. You may find yourself on a crowded route, going with a group of friends who may have susceptible loved ones, or stopping in small towns to get gas or snacks, along your journey. Check out the Lifa Mask for an incredibly breathable option. 100% of the proceeds of our Helly Hansen Lifa Masks go directly to outdoor organizations like The Conservation Alliance.
Looking out for the betterment and safety of others has always been a part of what it means to be a responsible outdoors person, pandemic or otherwise, and nowadays, bringing along a mask that weighs less than a couple of ounces is a very simple way of continuing that tradition and the hiking ethic of doing things safely and responsibly.
THE CLASSIC DAY HIKE
The embodiment of the outdoors… The day hike.
A staple of outdoor lovers, everywhere, the day hike is the most common of methods to explore the great outdoors. But despite its reputation for not being as "hardcore" as other types of outdoor adventure, there are still important things to think about in terms of packing the right gear.
Every year we read about hikers who get lost, encounter unforeseen challenges, get dehydrated or injured while out on the trail, or endure other mishaps, all because they took things for granted and were under-prepared. Having the right gear is essential to maximizing the enjoyment we can get from a day hike, and to eliminating any points of stress and concern. Being comfortable and safe is a great foundation for soaking up all the wonderful sights that mother nature has to offer. 
HAPPY HIKING!
Written by Nate Brown, Images by Nate Brown, Cam McLeod, and the Wild Outsiders.
To learn more about what Nate does in the outdoors as a mountaineer, keep up with him in the following places: