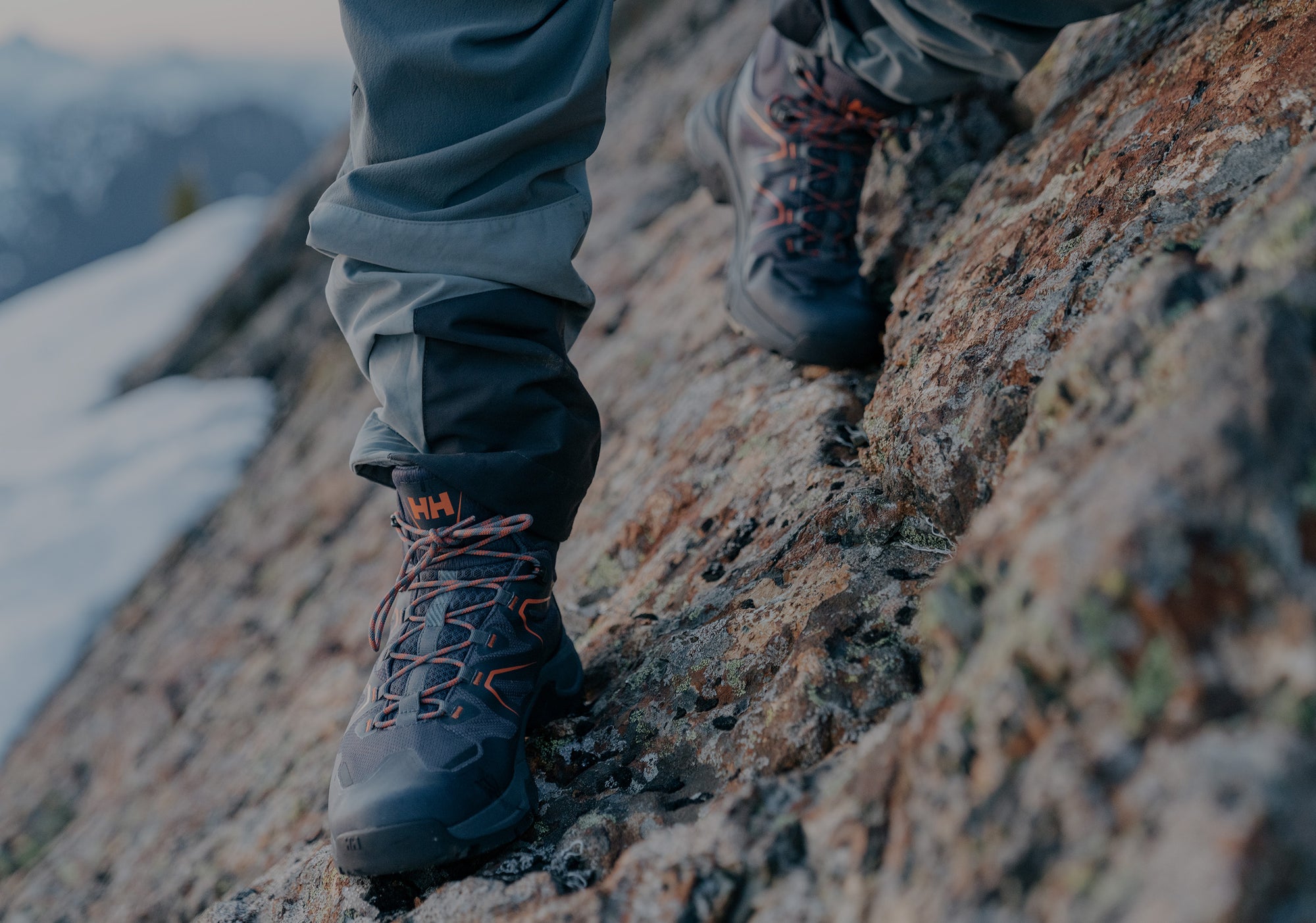 FOOTWEAR TECHNOLOGIES
Trusted by profressionals.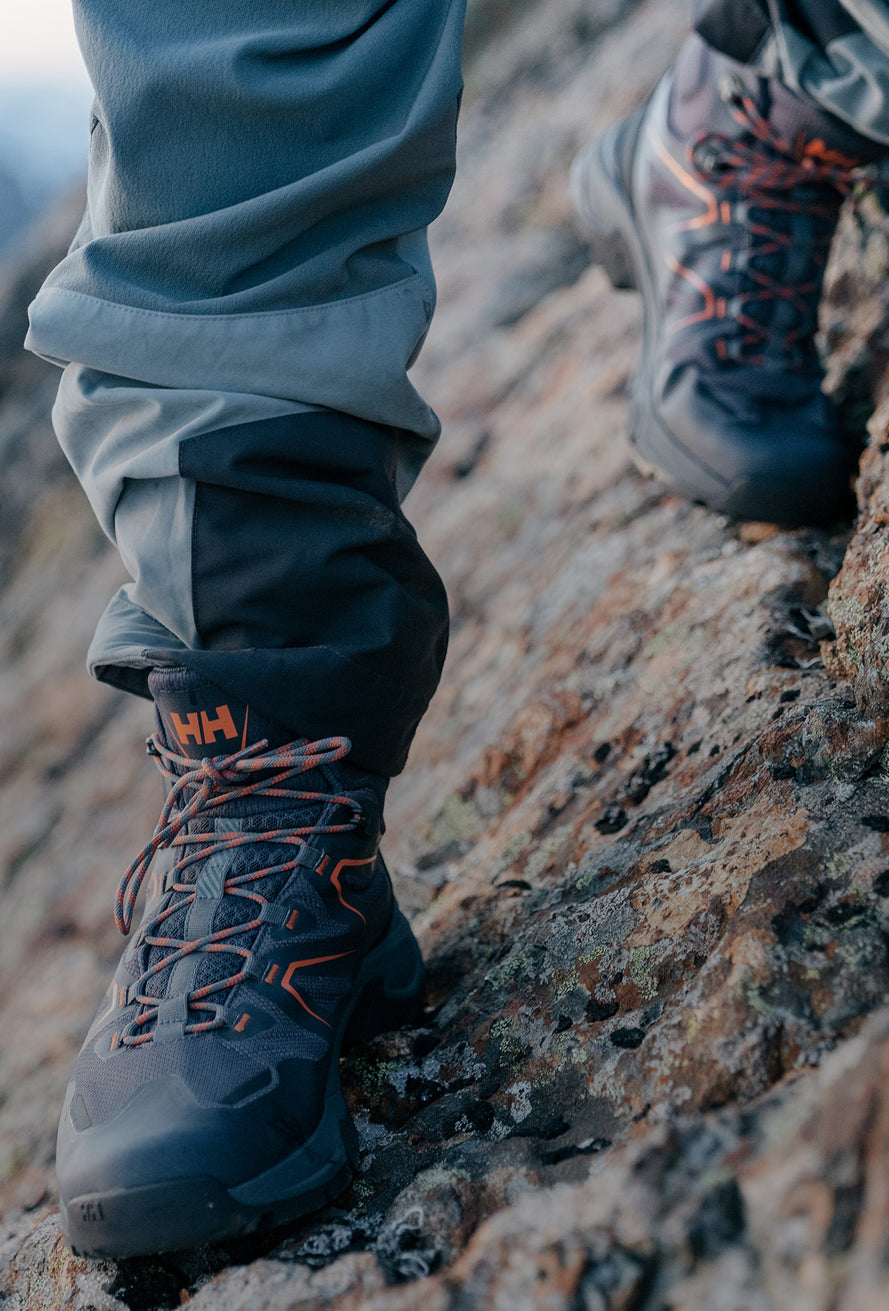 Walk in the shoes of our 55,000 professionals
For over 140 years, Helly Hansen has been developing and testing new technologies together with professionals who live and work in some of the toughest environments. Their experiences and our knowledge paved the way for Helly Hansen footwear in 2004. Since then, we have made some serious strides and now offer over 20 unique technologies; each trusted by over 55,000 professionals. From super grips to cushioning fits, scroll down to discover more:
HH® Seam-Shield prevents water droplets from pushing through in unwanted areas. Waterproof sealing on the back of all seams keeps you dry.
A seamless textile with engineered performance zones for great fit, stability, and breathability.
HellyTech® Waterproof delivers protection against the elements through our unique combination of hydrophobic-treated materials, seam-sealing, and a waterproof membrane.
Enhance your performance with HH® Power-Stride. The lightweight foam technology delivers the optimal balance of comfort and cushioning, rebound, extending the lifespan of the midsole.
HH® Lite-Frame provides stability without added weight. The seamless layer in the midfoot gives a lightweight feel to strengthen and protect the upper foot.
Designed especially to mirror the anatomy of the foot, the insole and outsole provide a natural flexing to maximize comfort, while delivering good grip and traction.
Molded removable footbed with a premium eva compound for great comfort and a prolonged lifespan.
Rebound better with HH® Charge. Extra cushioning under the forefoot from high-density material enables quicker and higher rebound rates from instant toe-off energy.
Get comfortable with HH® Hover-Stride. The foam technology offers the optimal balance between cushioning, fit, lifespan without compromising on comfort.
Shed any water and moisture fast with HH® Quick Dry. Hydrophobic-treated upper materials (textile, synthetic, and lining) creates an extra coating to deliver extra protection.
Propel faster with HH® Re-Charge. Extra cushioning in the heel area from special high-density material enables quick rebound rates and forward momentum.
Made with rubber compound, HH® Tough-Wear offers good grip and superior resistance to high abrasion.
HH® Hydro-Grip offers superior grip on wet and soft compounds, ideal for boat decks.
HH® Max-Grip offers superior grip on multiple surfaces, and in multiple conditions. The rubber compound is lightweight, comfortable and rebounds well. High-traction areas are placed in the heel and mid-foot.
Made with custom traction pattern, HH® Storm Siping is specifically designed for traction on boat decks.
HH® FreezeBlock prevents the cold from migrating further up your boot. The thin layer of thermal metallic foil built into the insole acts as a protective shield for the rest of the foot.
Keep moisture out with HH® Aqua-Shield. All HH® Aqua-Shield textiles are hydrophobic-treated, coated and water repellant.
Add stability and protection with HH® Infinity Fit, a purpose-built collar with engineered padding to enable a custom-fit.
Customise your fit with HH® Max-Comfort Insole. This moulded, removeable footbed is made with dual-density compound to guide the foot and enable a custom-fit.
Retain your direction with HH® Arch-Brace. This moulded, thermoplastic rigidity bar guides your foot's direction. Embedded in the arch, it prevents unnecessary lateral movement.
Circulate more air with HH® Max-Vent. This set of ventilated, breathable textiles with an engineered surface enable air-circulation and retention of a tempered climate, while still protecting against the elements.
Feel protected against the elements with HH® Pro Guard. Exposed areas such as the toe-cap and heel-cap are layered with a hard-wearing and high abrasian material to keep you protected.
HH® Pro Gaitor prevents snow and water from entering your boot. The protective gaitor fully covers the foot and parts of the calf.
HH® Surround-Grip offers multi-directional grip. Carefully engineered lugs deliver 360-degree traction on all surfaces.