March 31, 2023 | Helly Hansen
Rain jacket, raincoat, or simply a shell - whatever you call it, do you know what to look for?
The right rain jacket will keep you dry and comfortable during your activity of choice. Do you work up a sweat in rainy weather? Perhaps you walk the dog in the cold drizzle? Or maybe you commute to work and the weather just cannot make up its mind? In this guide, we cover the best rain jackets and features that will help you power through any shower.
WATERPROOF AND BREATHABLE CONSTRUCTION
The right rain jacket will keep you dry and comfortable during your activity of choice. Do you work up a sweat in rainy weather? Perhaps you walk the dog in the cold drizzle? Or maybe you commute to work and the weather just cannot make up its mind? In this guide, we cover the best rain jackets and features that will help you power through any shower.
WHAT TO LOOK FOR: 2 LAYER CONSTRUCTION OR MORE
Different companies have technologies to make a garment waterproof and breathable. Whichever you choose, the construction should have a minimum of two layers (often written as 2L, 3L etc.). The membrane allows moisture to escape from your body while the outer layer should protect from precipitation. As a waterproof/breathable garment becomes more advanced, it often has more layers (some of our Ægir Offshore products have 5!). The final touch in this construction is typically a durable water repellency treatment. This is a treatment that wears off over time and should be cleaned and reproofed. Read about how to clean and reproof a shell jacket here.
HELLY TECH: WATERPROOF/BREATHABLE PERFECTION
Helly Hansen's waterproof/breathable technology is called HELLY TECH®. It is the outer layer and final defence between you and the elements. To make this technology as waterproof and breathable as possible, every detail is thoughtfully considered to enhance performance - from the taped seams, to the membrane used, all the way down to the treatment of the fabric (skip ahead to durable water repellency for more details).
WHO ARE BREATHABLE RAIN JACKETS FOR?
Active commuters, dog walkers, those who are always on the move or who build up heat fast.
RAIN JACKETS FOR HIKING
Often called a shell, rain jackets for hiking should always be waterproof and breathable. If your hiking jacket isn't breathable, you'll become even wetter on the inside than the outside of the jacket. 
Waterproof hiking jackets should have some other key features, such as:
Smart ventilation (arm vents can help a lot during intense hikes)
Backpack-compatible construction (to ensure you can still access pockets and zippers while wearing a backpack with straps)
Waist-length construction to ensure mobility and avoid "bunching"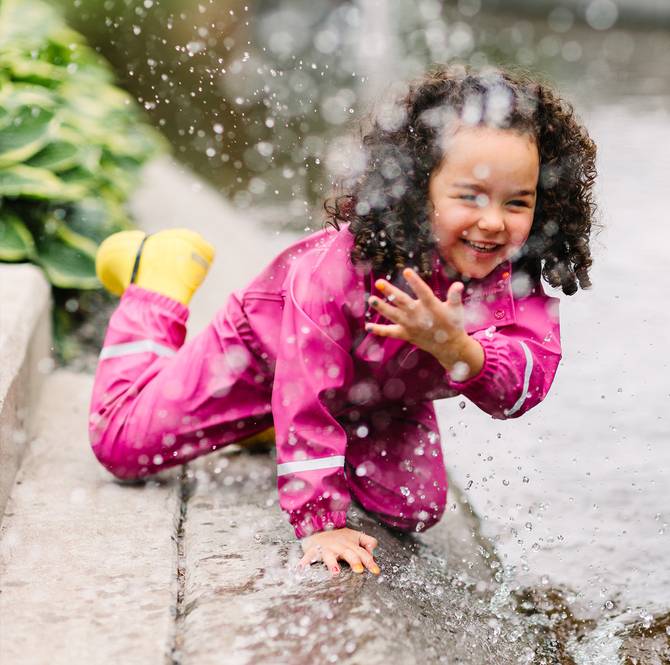 Renowned for its extreme water protection, Helox is a popular choice for kids' rainwear
DRIEST RAIN JACKETS FOR SERIOUS DOWNPOURS
When it's lashing down for hours on end, PU rainwear is your best friend.
WHAT TO LOOK FOR: HELOX
In 1949 we revolutionised rainwear with the introduction of Helox. Ever popular among offshore workers, it's come a long way since its introduction. Now replaced with PVC-free material, this steadfast waterproof technology withstands the most serious downpours and brings added stretch for freedom of movement, while its soft interior and supple fabric delivers comfort. Although Helox is not breathable, its welded seams are water-tight, protecting you in the worst downpours possible.
Each product in our Helox collection comes with a colour-matched PU repair kit, keeping with the Norwegian tradition of repairing your gear. 
WHO ARE HELOX JACKETS FOR?
Commuters championing public transport, offshore workers who spend long days outside, and kids.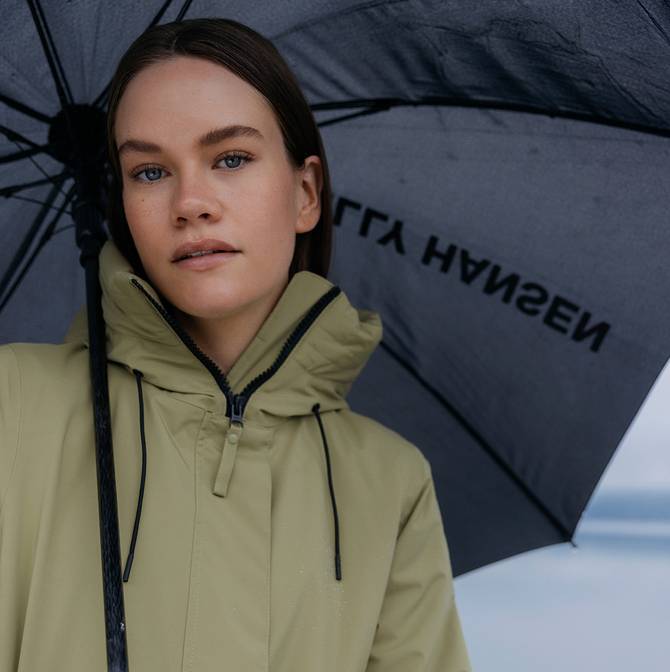 WARM RAIN JACKETS FOR COLD AND WET WEATHER
It's all well and good having a rain jacket, but what about those cold, damp days that chill you to the bone? Here you'll want to factor in warmth and plenty of it.
WHAT TO LOOK FOR: INSULATION (OR ROOM FOR EXTRA LAYERS
Here you have 2 options depending on your individual needs:
If you're the type of person that always runs cold, then we highly recommend an insulated rain jacket. We mostly use PrimaLoft®, the king of synthetic insulation that provides down-like insulation even when wet.

If you're looking for year-round rain protection, then you might want to consider a non-insulated raincoat that is roomy enough to add extra layers in shoulder seasons (think fleece or a wool sweater).
WINDBREAKERS: CAN YOU USE THEM FOR RAIN PROTECTION?
Windbreakers are designed to be lightweight, so they typically don't have the layered fabric construction necessary for serious rain protection. Still, a windbreaker can serve as quick cover from a light drizzle. Keep one in your bag for protection in a pinch, but don't expect a windbreaker to keep you dry during heavy downpours.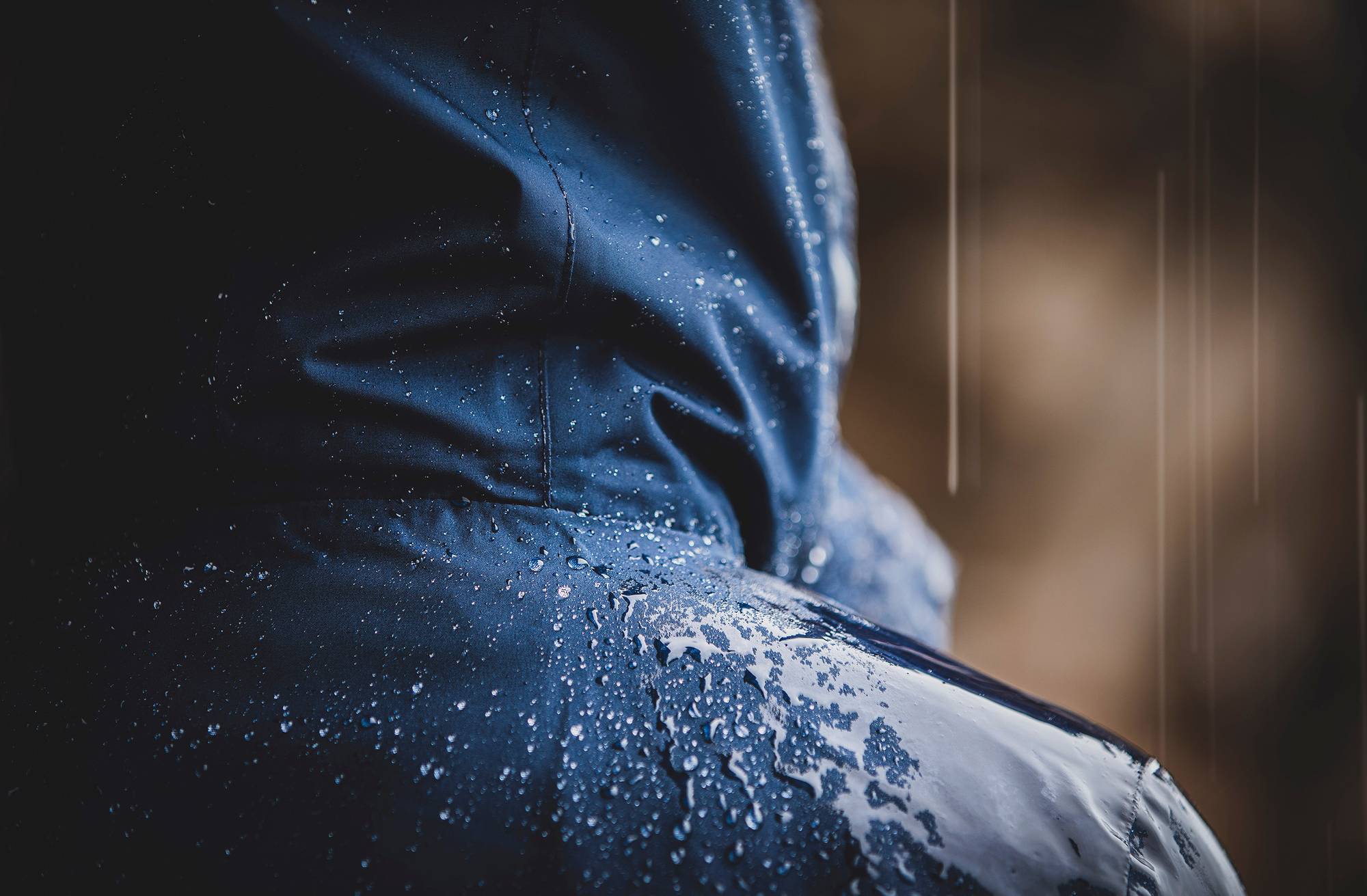 Durable water repellancy treatment provides breathable rain protection
OTHER FEATURES TO LOOK FOR IN A RAIN JACKET
On top of waterproof and breathable constructions, you'll also want to think about the features according to your needs, activity and the climate in which you live and/or work.
DURABLE WATER REPELLENCY
For our gear to be waterproof and breathable, two things need to happen. We need to make the membrane porous enough to let out moisture and tight enough to keep water droplets from seeping through. Though the membrane's fabric has some water-resistant properties, it needs an extra boost with DWR (durable water-repellent) treatment. This nifty layer of liquid is thinly spread over the fabric and is responsible for giving our gear its water-repellent properties. It is worth noting that DWR should be reapplied to keep your rain gear performing as it should - scroll down to our FAQ to find out how.
FIT AND LENGTH
Are you going to wear a suit or a dress, will you be sitting at the bus stop or furiously peddling through the traffic? These are all factors to consider when it comes to deciding on the fit and length. The obvious advantage of a longer length is that it covers more of the body. If you live in a climate where squalls are common, then we recommend a longer length jacket. For active pursuits, a waist-length jacket gives more freedom of movement, along with the added benefit of being easier to pack away, and throw on when you feel those first drops of rain.
POCKETS
Fleece-lined pockets add extra warmth for cold hands. Look for zippers to secure your goods and drop pockets (that open from the top) for easy and safe storage.
COLLAR AND HOOD
A high collar gives more protection from the wind. Select raincoats feature a stowaway hood that can be easily packed away for a more sleek look.
RAINWEAR ACCESSORIES
Sometimes, you need head-to-toe protection. Don't forget rain boots and even a rain hat for serious downpours. Let's face it. Umbrellas quickly lose their charm once a shoelace comes undone or we really need an extra hand. While the best rain jacket may not exist, you can still get a rain jacket that best suits your needs. Skip the umbrella with our quality rainwear made to last.