October 05, 2021 | Helly Hansen
Choose a parka based on the climate, activities, and overall intended use.
What is a parka? A parka is an insulated jacket, typically with a hood, designed to keep you warm and protected from the elements. Do you want a parka that will carry you through a cool fall in the Pacific Northwest or a parka for Arctic expeditions in the middle of winter? Are you wearing your parka for city commutes or for hanging around the campfire? In order to find the right parka, you should understand the type of insulation, wind and water protection, and other features (such as pockets, reflectors, and more) that would best suit your needs.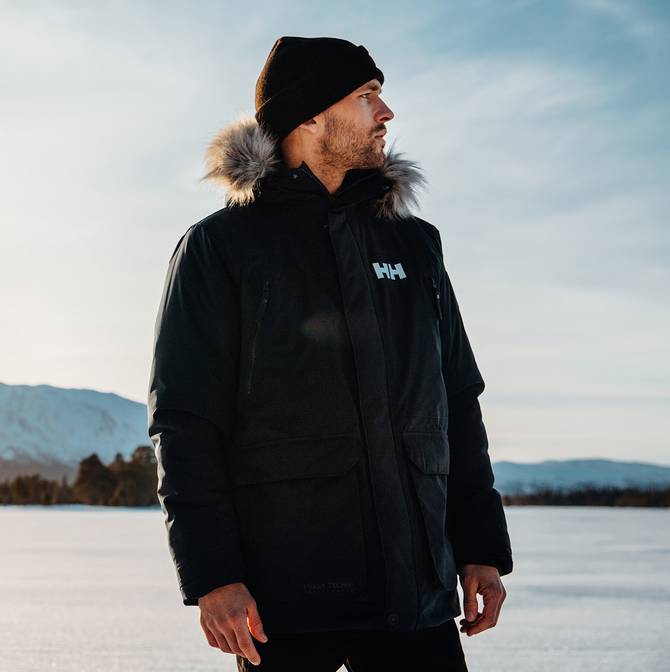 The Reine Parka features Primaloft® insulation, a removable faux fur hood, and a soft-touch HELLY TECH® Performance construction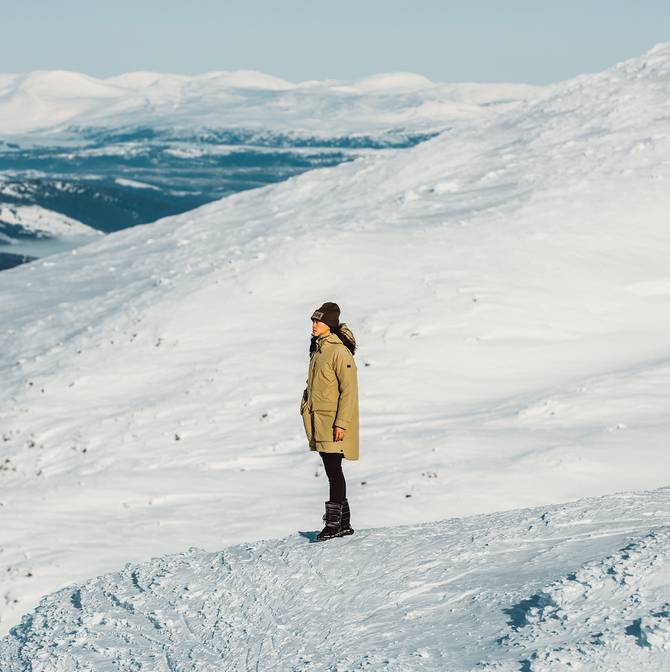 The women's Maud Parka features sheet insulation to avoid cold spots, a button-side bottom, and fleece lined hand warming pockets
INSULATION: SYNTHETIC VS DOWN
Trapped air is how most insulation works; the trapped air is what creates warmth and gives a jacket that "puffy" look. That's why people often call a parka a "puffy," "puffer," or "puff coat." Yet, insulated parkas can often be more subtle, with only a thin layer of synthetic insulation (creating a touch of warmth without much bulk). There are many different variations of insulated jackets.
Insulation can be constructed in segments (called baffles) or evenly throughout (called sheets). Baffles create a more paneled look, and down jackets usually are constructed in baffles, but synthetic can also be baffled. Sheet insulation (usually synthetic) gives a smoother look and removes any "cold spots" that can occur in baffling.
The two most common types of air-trapping insulation are synthetic and down. They each have their own benefits downfalls, so understanding these qualities will help you choose what's best for you.
DOWN
Down is a natural insulating material, formed by clustering duck or geese feathers. Thousands of tiny criss-crossing fibres create air pockets, which enable the body to efficiently trap and store air. All our down parkas are certified by the Responsible Down Standard, which aims to ensure down and feathers come from animals that have not been subjected to any unnecessary harm. The key advantage of down is that it delivers more warmth for weight than synthetic insulation.
The effectiveness of down parkas comes down to two factors: quality and fill power (the 'loft' or fluffiness). The quality of the down is displayed by the percentage split of down cluster/ feathers. (e.g. 80/20 or 60/40). The higher the cluster percentage, the higher the quality.
The second measure of down is fill power. This is how well the down will expand after being compressed. Fill power ranges between 300 and 900. The most common rating is between 400 and 500, but our home of Norway is cold, so our down parkas range between 480 and 600. In loose terms, the higher fill power, the more effective the insulation and the easier it will be to compress the down parka into a rucksack or bag.
Pros of Down:
Easy to compress & high warmth to weight ratio.
One thing that down does not do so well is tackle moisture. Once wet, it can lose its insulating function. This is because the feathers clump together, preventing air from being trapped and stored. If you live in a rainy climate, then it's time to consider synthetic insulation.
SYNTHETIC INSULATION
Synthetic insulation is designed to mirror the qualities of down with one key difference: it performs better when wet. The core function of insulation is warmth, so it's important to remember that even parkas with synthetic insulation shouldn't replace a quality rain jacket.
Not to be confused with the weight of the parka, synthetic insulation is measured by its thickness, which is displayed in grams per meter squared (gm/s2). Generally speaking, the more grams per meter, the thicker (and warmer) the synthetic insulation.
Pros of synthetic insulation:
Absorbs more moisture than down & Dries faster than down.
Our parkas are available in three types of synthetic insulation:
Primaloft® are the experts in advanced material technology solutions, and the world leader in the development of high-performance insulations and fabrics.
Polartec® High Loft™ takes fleece comfort and thermal warmth to greater heights. Their patented high loft fibre structure ensures an ultra soft and high compressible material.
LIFALOFT™ is our proprietary lightweight insulation, developed in an exclusive collaboration combining our unique LIFA® technology with Primaloft® insulation.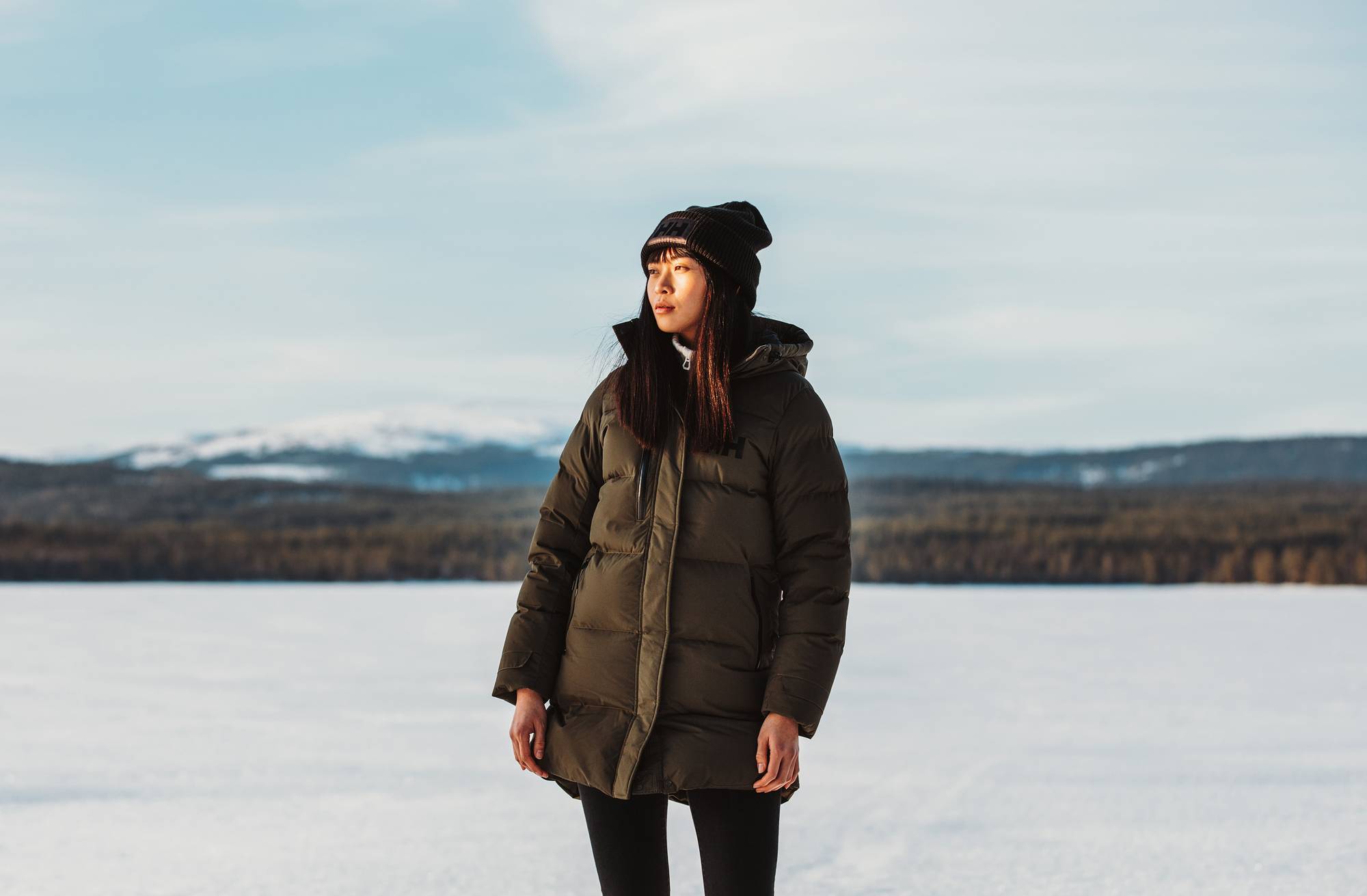 The Women's Adore Puffy Parka has a PFC-free water-repellent treatment outer layer with High Loft™synthetic insulation for extra warmth
CONSTRUCTION
WINDPROOF, WATERPROOF AND BREATHABILITY
An important feature of a versatile parka is protection from precipitation and wind. Look out for our parkas with HELLY TECH® construction for waterproof and breathable performance when the storm clouds come in.
LENGTH: THE LONG AND THE SHORT OF IT
Deciding on which length to go for comes down to personal taste, but each is made with function in mind. From commuters sitting at the bus stop to scientists sitting on the bare ground, our longer parkas shield more of the body, allowing for more warmth. For those on the move and wanting less bulk, a shorter parka is favoured for convenience because they're easier to store, yet still retain the warmth in your core.
If you're looking for a longer parka, there are some adjustable features that make it more adaptable for different uses. For example, a two-way zipper will help loosen the bottom of the parka when you're sitting down; unzip the bottom to prevent the need to pull up your jacket. Other variations on the bottom of the jacket (like buttons on the side) allow for greater freedom of movement (even on a bicycle) and an aesthetically pleasing silhouette.
3-LAYER SYSTEM™
What you wear underneath your parka will impact your overall level of warmth and comfort. A thinner parka like our W Aden Insulated Coat with 60gm/s2 insulation will not only protect you in the fall season, but also see you through the winter when worn together with a warm midlayer. The key here is to manage your layers just right to keep you comfortable. Too much insulation has its downsides too!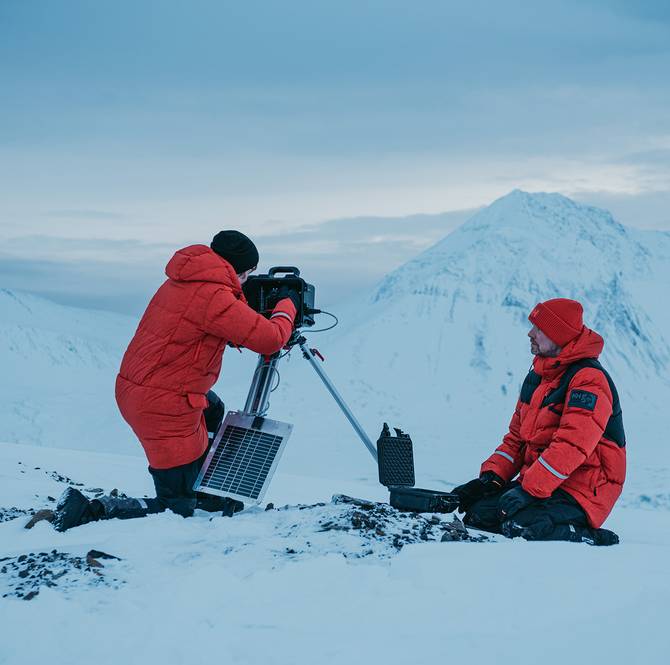 The Arctic Patrol H2Flow Parka is our most extreme parka, built with scientists working in the Arctic. Available in men and women's styles
FEATURES TO CONSIDER
We listened to the insights from scientists working in the Arctic to create a parka that met their specific requirements. The Arctic Patrol H2Flow Parka is packed with features, many of which we have incorporated into our other parka collections.
HOODS, COLLARS AND CUFFS
Unlike hats, the best benefit of a hooded jacket is that it protects your neck against the elements. Our faux fur trims, inspired by the Caribou Inuits' "sunburst ruff" hoods, minimise heat loss by creating a microclimate around the face. We know that hoods aren't for everyone though. If this is the case for you, simply go for a parka without. And for those who prefer a more flexible approach, we have got you covered with removable hoods too.
Extra protection against the elements can also be achieved with a high collar. The purpose of our parkas with high collars is to stop the rain and cool wind from running down your neck and spreading to the rest of your body. Made with faux fur lining, they'll keep you warm too.
Often overlooked, a jacket's cuffs create more warmth. Cuffs also serve the added function of holding the sleeves in place while keeping out chilly drafts.
POCKETS
We've all been there. We go to the store, spot the perfect coat and try it on in front of the mirror, only to find ourselves patting it down in desperate search of pockets. The apparel industry is laced with these stories, especially among women, so we've made sure to include pockets that are roomy enough for your valuables or your hands.
Different pockets have different purposes. For storing valuables, check out our parkas with pockets that can be accessed from the top or the side. For warming up cold hands, our parkas with fleece-lined drop pockets will keep these peripheries toasty.
In colder climates, you might grow tired of your phone's battery life draining quickly. LIFE POCKET™ offers an ideal solution. The pocket, made with thermogel, acts as an extra insulating barrier to help your phone survive the chilly temperatures.
REFLECTORS
As winter sets in and the nights grow longer, staying visible is more important than ever. Consider our range of parkas with fold-up reflectors to keep you safe in the dark.
Whether you're heading to the city for a day out or commuting to work, parkas are a versatile piece of apparel that have stood the test of time. Everyone can benefit from a parka in their winter wardrobe.